A Growing Neighbourhood
Abundant Choices for Everything You Need
Access all that Langley and beyond have to offer. More than big box stores there are so many local favourites to fall in love with. Get your organic groceries from Nature's Fare or the Prime Farm Market both known for incredible local selection. Satisfy your cravings at NOMA Sushi, The Mad Italian Pizza & Pints, S&L, and more. There is the soon-to-be updated Willowbrook shopping centre for access to 200 stores or gems like Wildflower Style & Co or Dlux Home for what you need and want. Get fit at the Oxygen Yoga & Fitness or watch the action at the Langley Events Centre.
Need more nature? Drive North to Derby Reach Regional Park and stroll with the dog and day camp along the Fraser River. The Fort to Fort Trail is great for body and mind. Since Flora and Fauna is close to major routes like 200th, Highway 10 or the Number 1 Highway that makes Vancouver and beyond all within reach.
For more adventure the historical Fort Langley is great for a day trip to explore sights and sounds from an era past, or perhaps to catch a live set for an upcoming movie.
Endlessly explore all your options from centrally located Flora & Fauna.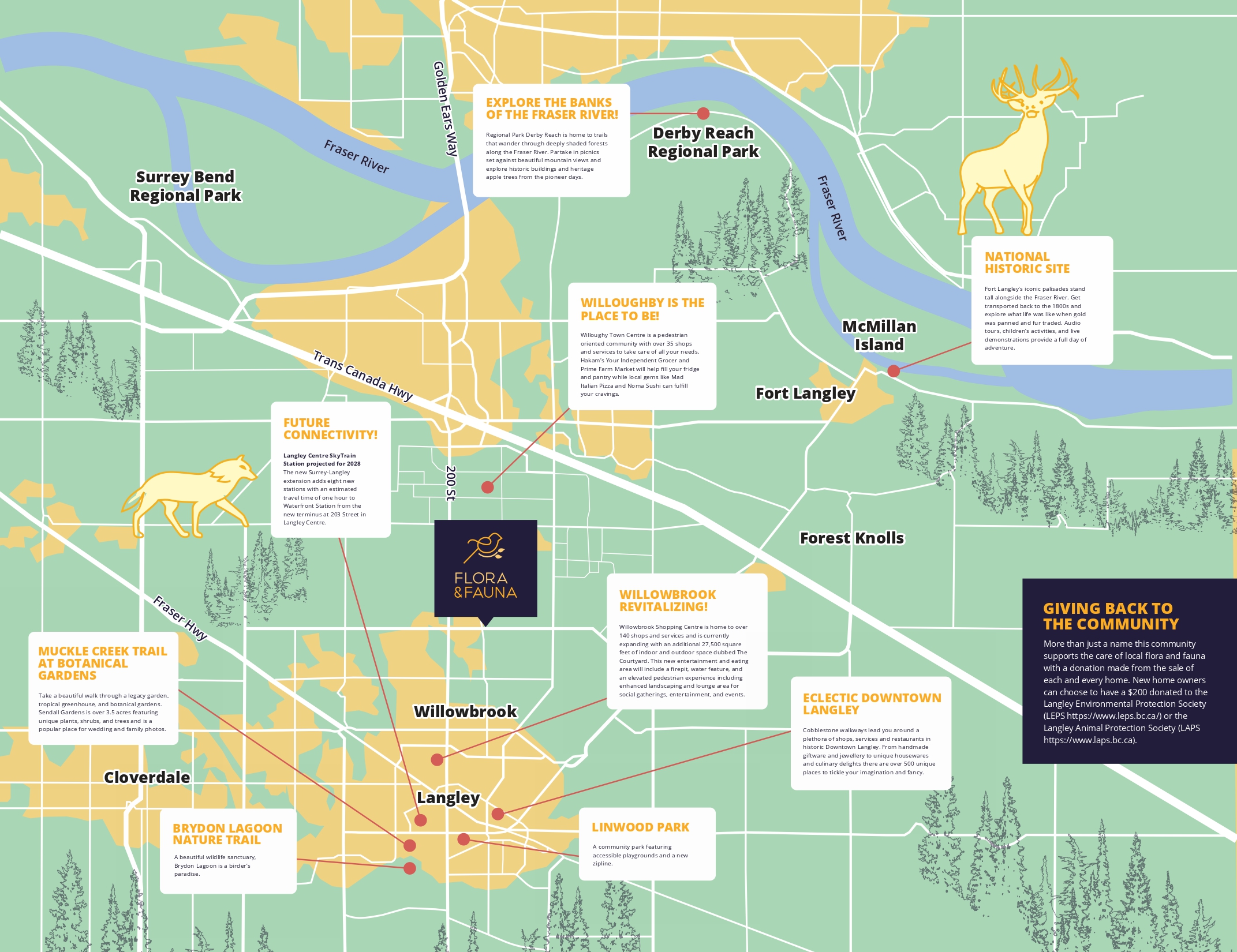 The Mad Italian Pizza Company

Willoughby is a community focused on new beginnings and new opportunities. So many of the great people we meet are starting something new, whether it's family, career, or a new first home. That sense creates something special, a bond, a friendship, a neighbourhood. It's also why we wanted to be as "Langley" as possible; from only serving beer from each of the great Langley Craft Breweries to sourcing ingredients grown or raised on Langley soil wherever possible.

There is simply no better community to serve and call home.

— Jonathan Houweling
Oxygen Yoga Willoughby

Being the first Oxygen Yoga & Fitness Franchise in Langley 9 years ago, we were so excited to open a second location in the Langley Willoughby area.

Willoughby Town Centre was the perfect location for us! Our members' satisfaction and the growing community in Langley is very important to our Family Business.

— Sam
Revitalizing Willowbrook Shopping Centre

THE COURTYARD, a new entertainment and eatery focused expansion to Willowbrook Shopping Centre will include 10 new food and beverage choices as well as an outdoor village-like entertainment area with firepit, water feature, and lounge areas for social gatherings.

Willowbrook Shopping Centre currently boasts over 140 shops and services including Nordstrom Rack, T&T Supermarket, H&M, and more.
REGISTER TODAY
Lorem Ipsum Dolor Sit Amet, Consectetur